Latest Environment & Energy Publications
Joshua Burke
The Government should establish a new Energy Efficiency Delivery Unit and Energy Performance Certificates should be linked to business rates to incentivise landlords to invest more in energy efficiency, according to Clean Growth, the new report from Policy Exchange's influential and expert Energy and Environment team. The report calls for a new approach by Government to encourage investment in business energy efficiency to reduce carbon emissions and improve business productivity. Existing tools like the Energy Saving Opportunity Scheme can be much better used – and must be extended to public sector institutions like the NHS and MoD.
Richard Howard, Matthew Rooney, Zoe Bengherbi and David Charlesworth

In this major new report — by Policy Exchange's Head of Energy and Environment, Richard Howard, alongside Matt Rooney, Zoe Begherbi, and David Charlesworth — the case is set out that the Government must take more action now to tackle the twin problems of greenhouse gas emissions and air pollution from road transport. Amongst other key findings, the report's analysis reveals that hitting carbon targets will leave a £9-23 billion p.a. hole in tax receipts by 2030, and that official estimates of vehicle emissions and fuel efficiency are highly misleading.
Richard Howard and Tom Galloway

Brexit presents a huge opportunity for the UK Government to develop a new approach to waste and resources policy. Rather than adopting the EU's proposed 'Circular Economy Package', which would cost British businesses an extra £2 billion over the next twenty years, the British government should use Brexit to define our own approach.
Latest Environment & Energy Blogs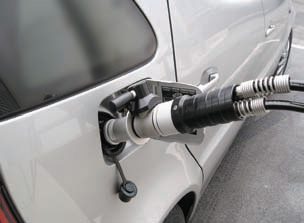 Hydrogen is making headlines again, but is the excitement justified? Josh Burke examines if we are really on the cusp of a 'hydrogen economy' and why the Government is right to target investment at lowering the high cost of producing large volumes of low carbon hydrogen.
The recent cold snap – and the ensuing spike in home heating oil prices – underscores the decarbonisation challenge in Northern Ireland, argues Policy Exchange's Matt Rooney.
Environment and Energy Research Fellow at Policy Exchange, Josh Burke, explores the recent speech by DEFRA Secretary Michael Gove on the water industry and finds much to praise – but also that there is more reform needed.
Latest Environment & Energy News
Richard Howard
Richard Howard, Policy Exchange's Head of Environment and Energy, discusses energy price rises and his recommendations for a relative model rather an absolute cap on energy prices, on BBC Radio 4's You and Yours
Policy Exchange
The Financial Times has referenced Policy Exchange's report 'Going Round in Circles: Developing a new approach to waste policy following Brexit' in an article entitled 'Recycling industry looks to claw best from Brexit'
Policy Exchange
Watch The Rt. Hon. Greg Clark MP, Secretary of State for Business, Energy and Industrial Strategy deliver a speech and answer questions at Policy Exchange's 'Developing a Modern Industrial Strategy' conference
Latest Environment & Energy Events