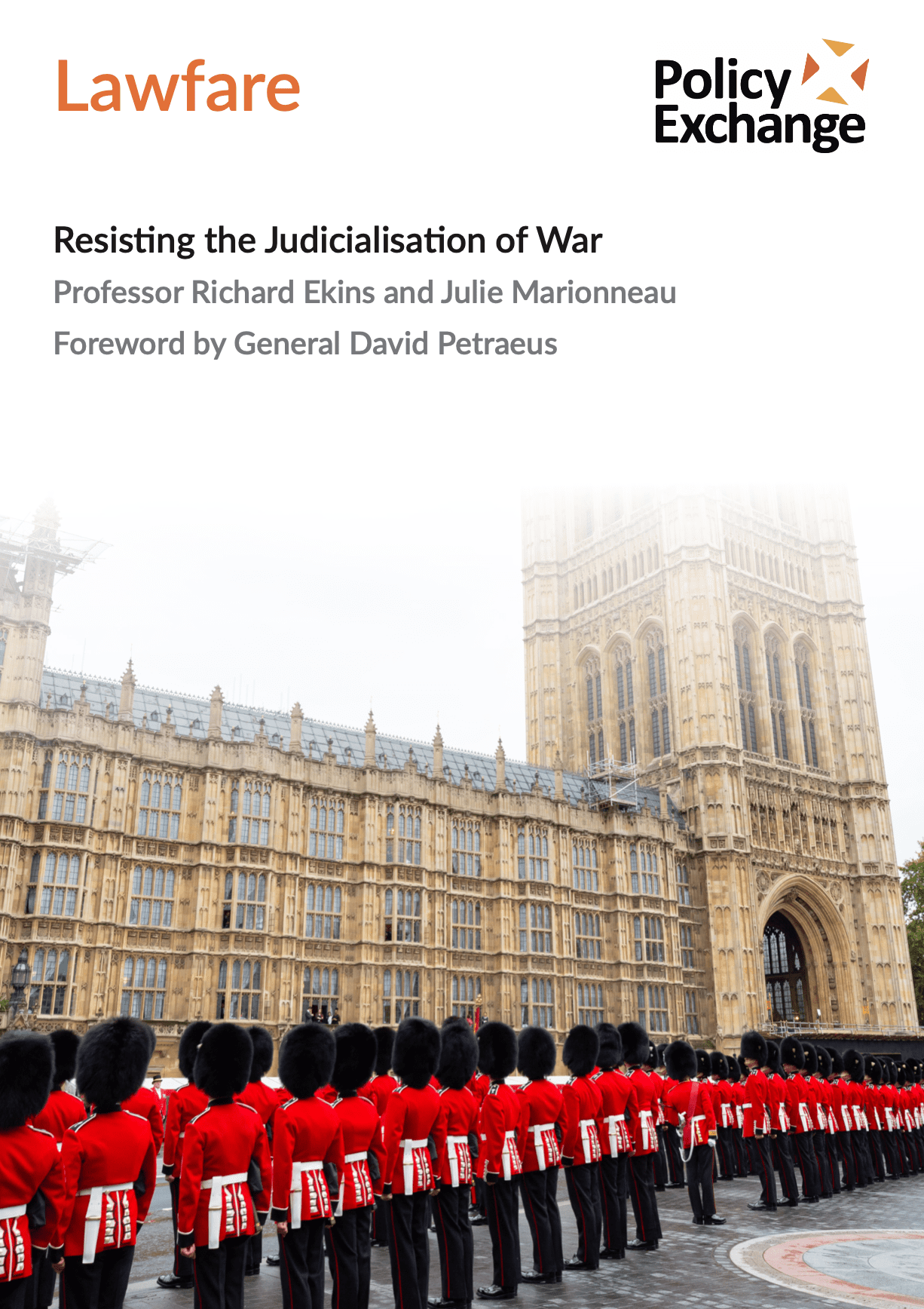 November 10, 2019
Lawfare
Policy Exchange's latest paper on lawfare, endorsed by General David Petraeus, sets out new measures on how the next Government must protect our soldiers from the assault of lawfare. The paper recommends that the next government should:
Maintain a policy of derogating from the ECHR in advance of future operations and legislate to put this policy on a statutory footing.
Amend the Human Rights Act 1998 to limit its extra-territorial operation.
Resolve not to comply with judgments of the European Court of Human Rights that extend the ECHR to military operations abroad. To protect UK forces who served in Northern Ireland from unfair pursuit in the courts.
The paper also recommends that the next government should:
Amend the Human Rights Act to specify that it does not apply to events that took place before the Act came into force in October 2000.
Introduce a Statute of Limitations which would prevent reinvestigation or prosecution of old incidents unless a court is persuaded that there is truly new evidence and that it is in the interests of justice for new investigation or prosecution to proceed.
Legislate to prohibit prosecution of former or serving UK forces without the consent of the Attorney General of England and Wales
Legislate to prohibit prosecution in cases where it is alleged that force used in defence of others or to perform an arrest was unreasonable unless and until the Attorney General for Northern Ireland certifies that in his view there was no honest belief that the force used was reasonable.
Finally, the paper recommends formation of a new Counter-Lawfare Commission to review lawfare against UK forces and to recommend further action, including advising on the forthcoming review of the Law of Armed Conflict Manual. In the Foreword, General David Petraeus, Former Commander, United States Central Command says:
"The problem the British military has faced in recent years, to which Policy Exchange has properly drawn attention, is the "judicialisation" of conflict and, in particular, the displacement of the Law of Armed Conflict by European human rights law.  The unfair pursuit of British soldiers and veterans in the aftermath of operations is particularly concerning.  This practice has caused enormous stress and anxiety on those who are caught up in investigations, sometimes years or even decades after their combat service.  This is not only unfair to those who have served and sacrificed for their country, it also gravely undermines the morale of those serving now and raises an unnecessary concern for potential recruits."