Events
If you wish to attend any of our events please get in touch with our events team at events@policyexchange.org.uk.
Alternatively, our events are all filmed and can be watched online. Click the individual events below to see the videos.
Events
September 7, 2017




6:00 pm - 7:30 pm
A discussion with John Godfrey (Former Director of Policy at No 10), Fraser Nelson (Editor of the Spectator), Terrie Alafat (The Chartered Institute of Housing), Phillip Barnes (Barratt Developments Plc), and Susan Emmett (Head of Policy Exchange's Housing Unit).
Location
Address:
Policy Exchange, 6th Floor, 8 – 10 Great George St
, Westminster,
London
,
SW1P 3AE
May 8, 2017
Policy Exchange was delighted to host the London launch of Dr William Matchett's book "Secret Victory: The Intelligence War that beat the IRA."
April 27, 2017
Dieter Helm's new book, Burn Out: the endgame for fossil fuels, was launched at Policy Exchange on the 27th April 2017
April 25, 2017
Policy Exchange was privileged to host Robert D Kaplan, one of the world's leading thinkers and writers about global affairs, for a discussion on geopolitics and America's changing role in the world. His remarks will build on insights from his latest book,Earning the Rockies: How Geography Shapes America's Role in the World – which has been called a "masterpiece" by General David Petraeus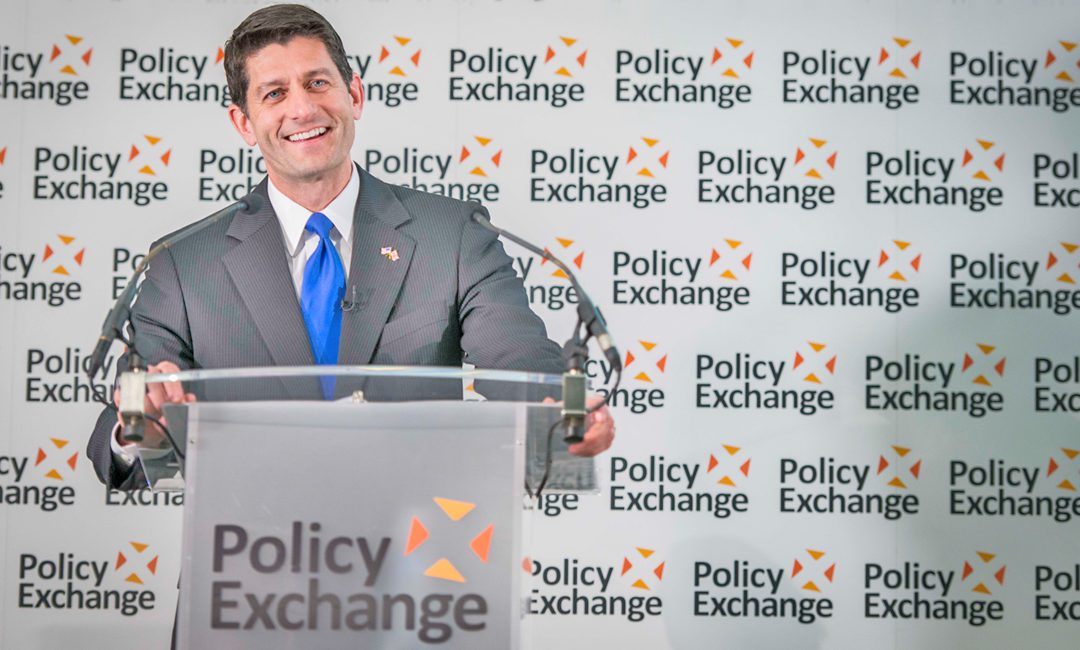 April 19, 2017
Policy Exchange was delighted to host Hon Paul Ryan, Speaker of the US House of Representatives — giving his only public address during his trip to London with a bipartisan Congressional delegation.
March 23, 2017
To mark the launch of the report, Policy Exchange held an event to discuss both the proposals made in the report, and broader questions concerning the future direction of waste and resources policy following Brexit
March 20, 2017
This major conference gathered together leaders from the fields of politics, academia and business to debate the shape of the emerging Industrial Strategy.
March 15, 2017
To mark the launch of David Goodhart's new book with a discussion on The Road to Somewhere: A New Settlement in British Politics? Panellists will include leading commentators Tim Montgomerie and Jonathan Freedland
Feb 22, 2017
In this talk, Tim Farron MP, Leader of the Liberal Democrats, gave his assessment of the UK clean energy sector and put forward the steps the Liberal Democrats will take to work towards a zero-carbon Britain
Jan 31, 2017
This lecture by Professor Nigel Biggar was delivered at Policy Exchange on 31 January 2017, with a Vote of Thanks by Lt Gen Mark Carleton-Smith CBE, Deputy Chief of the Defence Staff (Military Strategy and Operations), on behalf of the Chief of the Defence Staff, Air Chief Marshal Sir Stuart Peach GBE KCB
Jan 27, 2017
This event took place at Policy Exchange on Friday 27 January. It was a 'Dragon's Den' style event, in which a number of industry leaders 'pitched' their vision of the future of road transport, to a panel of experts